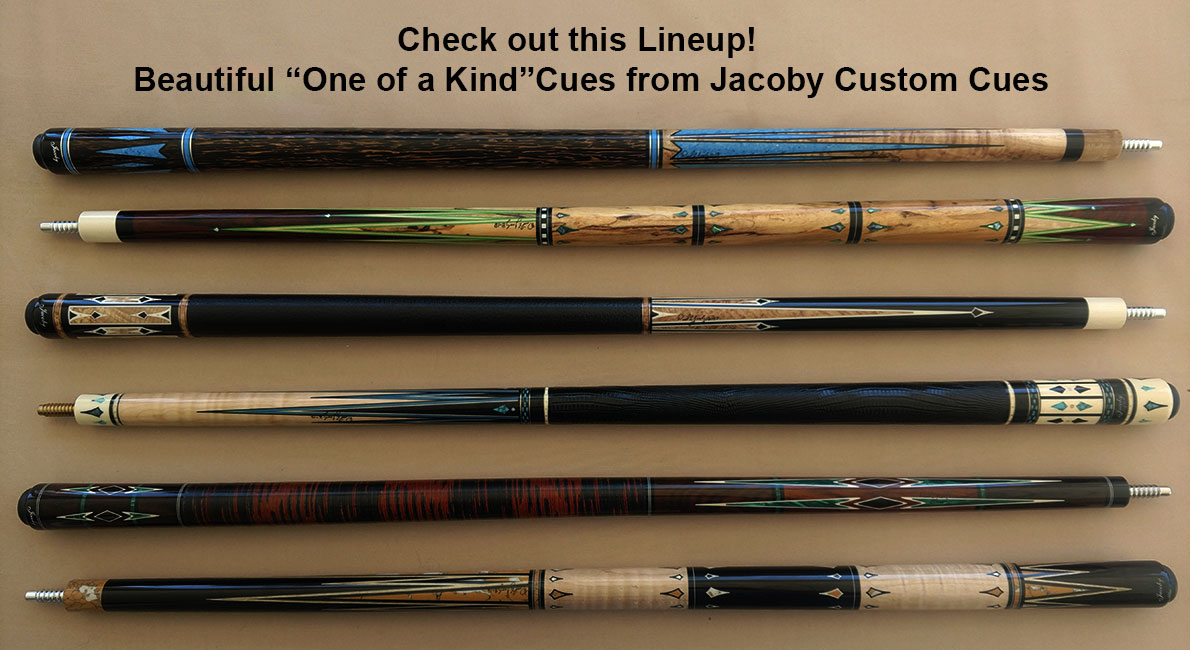 Welcome to Beautiful Cues
Great examples of Custom One of a Kind Cues from Jacoby Custom Cues
Cue #115-49 at the bottom is still available all others have been sold.
To see more cues click on Cues to the left or visit us at the
BCA Tournament Feb. 22 to Mar. 4th at the Rio Hotel.
APA Singles Tournament April 26 to April 30 at the Westgate Hotel
APA Team Tournament Aug. 3 to Aug. 12 at the Westgate Hotel
Custom cues designed and created in the United States of America by today's cue makers are truly examples of "Functional Art". The blending of form, function, and fine art results in a masterpiece worthy of praise from art and cue aficionados around the world.

The fine cues you are about to view represent craftsmanship of the highest quality from artisans with exceptional talent. These cues are not only beautiful; they offer great performance sure to enhance your playing experience. Any of these cues would be an excellent addition to a collection.

I specialize in Limited Edition and One-of-a-Kind cues from Jacoby Custom Cues and sometimes other cuemakers. The truth is we never really own these masterpieces we merely look after them for our next generation to cherish.

Thank you for taking the time to view beautifulcues.com.

Jim Knott

This cue is now a proud member of a major collection in the United States